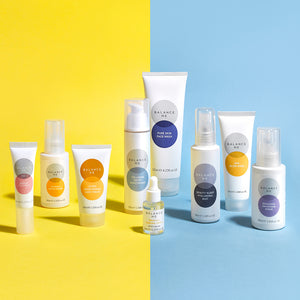 EXCLUSIVE to YOU Beauty.
You Beauty have partnered with Balance Me skincare to bring you an AM + PM skincare routine,

As their name suggests, this is skincare that champions BALANCE. Balance in LIFE. Balance in your SKIN.
Balance Me believes five minutes of SELF-CARE, through SKINCARE can have a dramatic effect on your skin as well as your daily WELLBEING. Their results-driven bio-active formulas will solve your skin concerns and bring your skin back into balance, naturally.
What's Included? 

Pure Skin Face Wash, 125ml
A gentle wash-off jelly cleanser bursting with sunshine oils that removes makeup, pollution, SPF to reveal a brighter and clearer skin.

Vitamin C Repair Serum, 30ml
An award-winning silicone-free serum that upgrades hydration and radiance, boosts collagen activity and targets pigmentation.

Collagen Boost Moisturiser, 50ml
A peptide-rich cream to address the skin's natural 'bounce' and bring skin back to bright through firming and boosting collagen activity.

Gradual Tanning Drops, 6ml
Customise your daily glow and add luminosity to your face and body with a few drops of these 'sun-free' sunshine into your daily cream.

Wonder Eye Cream, 7ml
A multi award-winning 3-in-1 hyaluronic acid eye treatment to soothe, firm and brighten tired and screen-weary eyes.

AHA Glow Mask, 50ml
An award-winning triple action exfoliating mask to use for 15 minutes, 2-3 times per week to instantly brighten, purify and plump.

Bakuchiol Smoothing Serum, 30ml
A plant-based natural alternative to retinol to improve radiance, target and reduce wrinkles with anti-pollution and anti-blue light protection.

Beauty Sleep Hyaluronic Mist, 45ml
A multi-award winning smart, synergistic blend of sleep-inducing actives to plump and hydrate the often overlooked décolletage while you sleep.

Super Moisturising Hand Cream, 30ml
A seriously rich hand treatment that leaves even the hardest working and frequently washed hands smooth and soft to touch.
Delivery & Returns policy
Stock subject to availability. You will be notifed via email when your product has been dispatched.