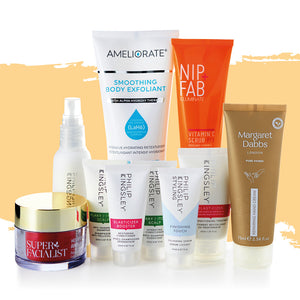 If you're looking to refresh your routine for the new season, then look no further. 
Presented in a gift box, the brand-new edit includes:
Ameliorate Smoothing Body Exfoliant 150ml / RRP £18.00 FULL SIZE

NIP & FAB Vit C Scrub Fix 75ml / RRP £12.95 FULL SIZE

PHILIP KINGSLEY Elasticizer 40ml/ RRP £12.00

PHILIP KINGSLEY Anti Dandruff Shampoo 20ml / RRP £3.50

PHILIP KINGSLEY Daily Damage Defence 60ml/ RRP 10.00

PHILIP KINGSLEY Elasticiser Booster 20ml / RRP £4.00

PHILIP KINGSLEY Finishing Touch Polishing Serum 20ml / RRP £6.00

PHILIP KINGSLEY Flaky/Itchy Scalp Hydrating conditioner 20ml /RRP £3.00

Margaret Dabbs Pure Repairing Hand Cream 75ml / RRP £18 FULL SIZE

Super Facialist 9 Anti-Ageing Advanced Rejuvenating Night Cream 50ml / £25 FULL SIZE
Delivery & Returns policy
Stock subject to availability. You will be notifed via email when your product has been dispatched.