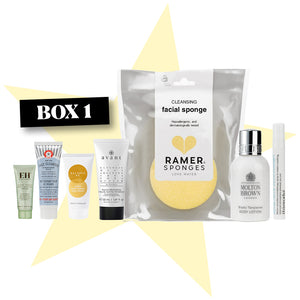 Back by popular demand. Featuring handpicked beauty products from the brands you know and love. This box is worth over £100 and filled with travel-sized essentials - perfect for your mini-breaks or stocking fillers!

What's included?
This Works Stress Check Mood Manager, 10ml (RRP £4.50)
First Aid First Aid Beauty Pure Skin Face Cleanser (RRP £5)
Motlon Brown Vetiver & Grapefruit, Blissful Templetree Body Lotion 50ml (RRP £5)
Avant Intensive Redensifying Glycolic Acid Day Moisturiser 50ml (RRP £86)
Ramer Sponges Facial Cleansing Sponge x 1 (RRP £4)
Balance Me Hand Cream 30ml (RRP £8)
Emma Hardie Midas Touch Revitalising Cream 15ml (RRP £15)
Hurry! We have limited stock so buy now to avoid disappointment. 
Delivery & Returns policy
Stock subject to availability. You will be notifed via email when your product has been dispatched.